There appears to be a 'Destination Playground' trend on the rise, lead by a handful of city councils in New Zealand.
These playgrounds aren't your average local neighbourhood playgrounds; destination playgrounds provide their local communities with a wider range of play equipment, alongside a variety of amenities, such as disability paths and toilets. The most standout features of the destination playground, are largely attributed to an 'active city' vision, encouraging young community members to become active, energetic and to engage in their local communities.
One of the major recognised needs for these playgrounds, is that they will serve as a day-out, stimulating physical and mental activity, to its local community members and residents. There are more people predicted to be living in higher density housing and in new areas of the cities, due to population and city growth, in future years to come. Destination playgrounds offer creative equipment that is aimed to be simultaneously fun and challenging.
Destination playgrounds are best described as premium playgrounds, designed for an entire city, which serve as a major attraction to its local communities, visitors and tourists. Some standout features of a destination playground when compared to a regular playground, include:
• The yielding of community engagement and excitement
• The convenience of encouraging visitors to stay entire days: to serve as a 'day out'
• Design input involves local residents and tells a story which reflects and resonates with the local area
• The facilities are designed for all ages and abilities; including areas of shade
• Each destination playground is unique to create different experiences
• Principles of Crime Prevention Through Environmental Design (CPTED) apply
Hamilton City Council is accelerating the development of destination playgrounds, which is outlined within its Playgrounds of the Future Plan.
Destination playgrounds are rapidly sprouting throughout Hamilton, and recently it opened its new million-dollar, 'Hamilton Gardens' adventure playground. The Hamilton Gardens playground is the seventh recipient of the Hamilton City Council's Future Plan, and is comprised of both physical and problem solving activities. Some standout qualities include: a giant earthworm tunnel slide for brain hacks and puzzle solving; bird houses; the Jade Dragon Theatre: a brightly coloured stage designed for children's performances; and Abdul Kabul's secret garden, which is made up of wooden tree huts and a variety of swings.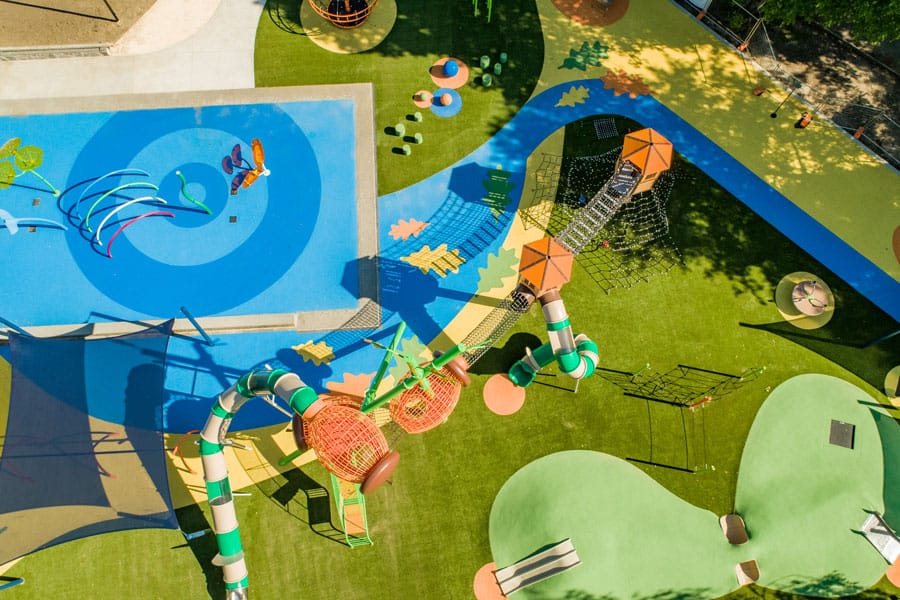 The sixth recipient of the Hamilton City Council's Playgrounds of the Future Plan is, the Dominion Park in Nawton, which has an ecological theme reflecting Hamilton's environment.
Other city councils in New Zealand have started to follow suite, and take Hamilton's lead in the acceleration of destination playground development, such an example is the multi-million dollar Margaret Mahy playground in Christchurch, which had its idea spawned from the Christchurch City Council's Share an Idea Campaign, post-earthquakes. What sets this particular playground apart, is its magnitude of detail, which were put into its total development: between the Avon River, and Manchester, Madras and Armagh streets. Its extensive work included earthworks, landscaping for the entire block of developments (which the playground itself takes up approx. one-third of), and the installation of the playground's innovative and specialised equipment. The playground itself cost $3 million.
In some cases, such as in Christchurch, destination playgrounds have been very much a part of rebuilding the city to foster a centre of gravity for communities, to have somewhere to play and relax. In a bustling city like Christchurch a playground serves a unique spot, a sanctuary to provide communities and residents some escapism from their busy lives.
Destination playgrounds will serve as family days out and, stimulate physical and mental energy from play equipment that is innovative, unique and, which expresses the ethos of its local community.
The current trends associated with destination playgrounds are setting the stage for a more integrated and holistic, community environment for future generations. The future needs of local residents and communities are addressed through the consideration of factors related to: increases in population density, compact living, city growth and climate change.
In the years to come, expect to experience destination playgrounds as the next wave of community engagement, through the fostering of well-being in thriving, outdoor environments.