When it comes to building or upgrading a childcare centre playspace there is a multitude of services to work with. How do you ensure the right coordination and consistency of quality through the entire process?
Making sure you get the best players on your team involves choosing the right playspace designer, quantity surveyor, project manager and, of course, installers. It's a challenging task – and one that most busy childcare centre owners or managers simply don't have time for.
This is why a company offering a complete design and build service is the smart choice for any ECE project. There is only one decision to be made at the start of the project, and the rest falls into place.
A design and build company provides the design and construction of the project under one contract. The company you choose will be with you from the development of the initial concept through to final sign-off.
Here are the four main reasons why a design and build service will help you get the ECE play space you want.
---
1. Expertise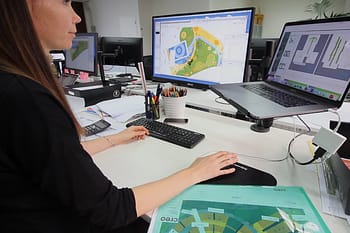 A lot of time and effort goes into planning and designing a new play area. Consideration must be given to the best way to engage and delight children at the same time as providing rich learning experiences for all abilities and well organised flow within the space.
But what is equally as important is facilitating the construction. By using a design and build service, it is possible to bring all elements of the project under one contractor and maintain one clear vision for the project. As well as providing advice on design approaches it also ensures guidance on other critical aspects of the project. These include timeframes, budget and how work will be carried out around ongoing ECE operation.
Design and build firms have the staff on board to carry out all of these functions, offering professional experience in each trade, as well as the ability to price, project manage and bring in reliable sub-contractors where needed.
2. Continuity
A design and build company is involved in the project from start to finish, which adds an inherent efficiency and effectiveness to the process. The work they do creates a common vision at the beginning and enables continuity through every decision made subsequently. The chance of critical elements being overlooked is minimised when working with one contractor.
The design and build contractor also becomes accountable for all aspects of the project. The workload (and stress load) is lightened for internal ECE staff, and everyone is assured that timelines, budgets and overall vision are met.
3. Costs
Often the task of matching the needs and wants of a project with the budget is a challenging task. By working with one firm for the entire process you can ensure that all costing is analysed early in the process – and clear direction is given on what can or can't be achieved.
Design and build provides guidance on the cost of fees, construction costs, utilities, equipment and landscaping. Alongside this other elements are considered including conceptual design, completion timeframes and minimising disruption to operations.
4. Time Savings
The design and build approach offers a seamless transition from the design stage to the build stage.
During the concept design consultation your design and build company will translate ideas into a workable design concept. After this the same team will produce detailed construction drawings and provide material selection.
From there a schedule of work is created to set the overall project timeline. When construction begins everyone has a clear understanding of the project and the ultimate end goal.
---
The busy ECE will be constantly juggling the needs of the children, their parents and the surrounding community. With the daily administrative and bureaucratic requirements there's a lot to keep up with. That's why attempting to project manage a new playground build is often too stressful for ECE owners and managers. Thankfully there's a better choice available.
If you're ready to read more on the process it's easy – simply download our guide "How to build a playground in 2022" and discover how much better your play project can be when you use an all-in-one service.