If you own or manage a Holiday Park, it's likely that your playgrounds are at the centre of your business. Well-maintained playgrounds can make your park more attractive to customers, particularly families with young children, which translates into increased revenues and profits over time. To help you maintain your playground, here are 5 important reasons why you should consider installing a new playground in your Holiday Park in the next 12 months.
Reason #1 – Attract More Families
With overseas tourism essentially postponed indefinitely because of Covid 19, there isn't the steady stream of tourists there once was. Fortunately, there are plenty of New Zealanders looking for local holiday destinations to take the family to. A new playground can help grow your visitor numbers by attracting families who might otherwise choose an Airbnb or holiday home. Research shows that parents tend to stay in places where there is plenty for their children to do, which is why adding family-friendly activities like a new playground will help get more people through your gates. You can also boost visits by using your playground to host family events at special times throughout the year.
Reason #2 – Increase Revenue Generation
Holiday Parks can generate extra revenue through their amenities. The more amenities, such as restaurants, pools, and playgrounds they have; the more customers they attract, and the more customers are willing to pay. This is why it is important to keep up with these facilities, especially when it comes to playgrounds. An old playground can actually hurt your business. Tired looking playgrounds put guests off from returning to your holiday park for a second stay. In a world where holiday parks are competing for return business from local customers, it is critical that your playground is tidy. It seems many holiday parks do not like replacing old play equipment with new ones due to budget cuts and lack of ideas on where or how to spend the money. This is an opportunity for those operators who are forward-looking and prepared to invest to get ahead of their competition.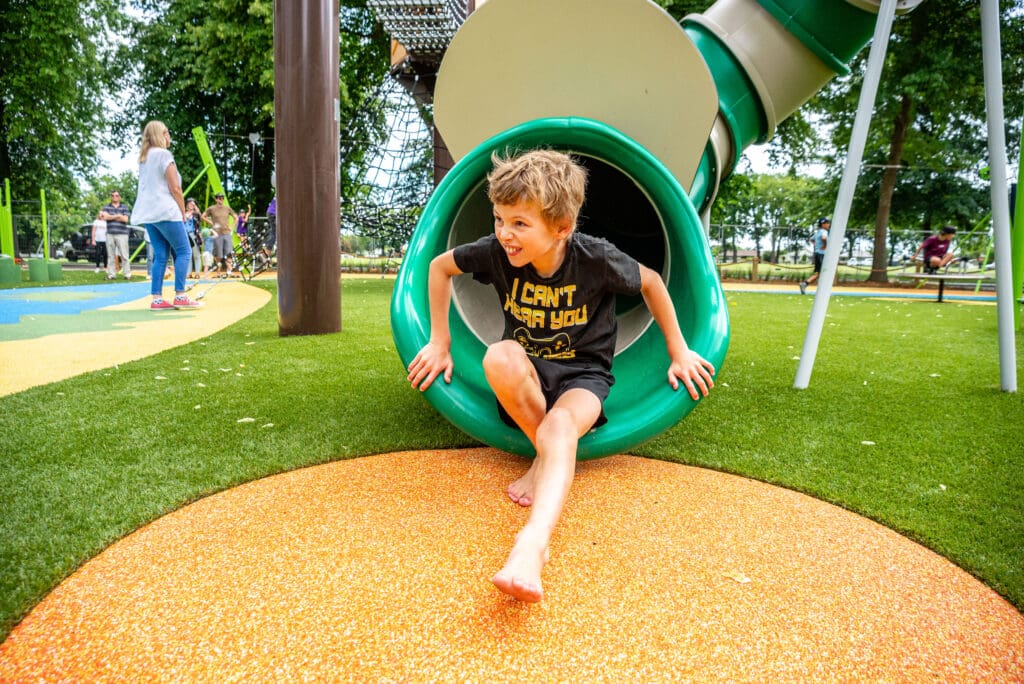 Reason #3 – Enhance Brand Awareness
A well-designed playground can do wonders for brand awareness. That's because families who have a positive experience because of your new playground will want to share that with their friends and family, potentially bringing in even more customers. It's even better if you can put your new playground in a location that's visible from outside your property. Everyone who passes will see it and will want to visit with their children. With the help of a playground designer, you can create an eye-popping playground which people will interact with. They might even take pictures of themselves playing at it or posing next to its sign! Either way, if people are having great experiences at your holiday park from an early age, they're going to be more likely to visit when they're older too.
Reason #4 – Improve Playground Safety
Playgrounds are beloved attractions for kids, but they can be dangerous places if not constructed or maintained correctly. Incorporating new features like safety surfacing and new equipment will make play spaces safer for kids of all ages. Your holiday park may see an increase in playtime with these minor updates; it's also likely that parents will feel more comfortable letting their children spend time on your park's grounds. Using the New Zealand Playground Safety Standards to incorporate changes into a playground upgrade is one of the easiest ways to keep kids safe while improving their experience.
Reason #5 – Reduce Maintenance Costs
Playgrounds require a lot of maintenance, especially when the surfacing and equipment are more than 10 years old. The last thing you need is a playground maintenance bill that is growing every year. That's money you could be used to upgrade to new low maintenance surfacing and equipment. While the upfront costs of doing this can be expensive, the long-term gains are worth it. Plus, a good playground designer can work with low-cost alternatives to expensive equipment that can help reduce costs and allow you to get your exciting new playground (and happier guests) sooner.
About Creo
Creo is a playspace 'design and build' company that brings together skills in landscape architecture and construction to deliver exceptional play spaces. We can work with you to custom design and deliver a playground to fit your budget, timeframe, and playspace needs.
Contact us today on 0800 000 334.