The importance of play as an essential element in children's development cannot be understated. Because of this, creating play spaces and outdoor environments that are fun, interactive, and safe, is becoming an increasingly important part of ECE facilities and programs.
However, there are a number of creative and safety-related challenges to overcome when designing and building such play spaces. This article will explore some of the challenges you might be facing and offer some insights into how to conquer them.
1. Tired Play Spaces
If your playspaces are feeling outdated, unattractive, and untidy, then it is certainly time for a redesign. Not only are outdated playgrounds an eyesore, but they can also be a strain on your maintenance staff who have to spend a large amount of time fixing and maintaining the equipment and surfacing.
A fresh rebuild is a perfect way to create a great looking space that will reduce maintenance in the long term.  Bringing in new elements can breathe fresh air into your ECE, making it look more attractive to parents and staff.  With so many design opportunities you really can bring to life the play space of your dreams.
2. Uninspired Children
If children don't want to play there and staff don't want to spend time there, then you know it's a play space in desperate need of a makeover.  Playtime is a crucial aspect of children's development. It allows them to interact with each other, get creative, challenge themselves physically, and learn about the world around them. A play space where children can feel inspired is important.
Upgrading your playspace will make it an attractive place to play for your children, which means they'll spend more time playing happily and less time getting into trouble out of boredom. It also gives staff a pleasant space to interact and teach in.
3. Playground Safety Issues
If your equipment or surfacing is getting old, then it can easily become unsafe and a hazard for children to be around. If you're there already, then it's definitely time for a playspace transformation. Safety comes first when designing new areas for kids' climbing equipment, slides, swings and slides.
By getting a playspace redesign, you'll not only ensure the safety of your students, but you'll also take advantage of the opportunity to provide the play and learning spaces you need at your centre.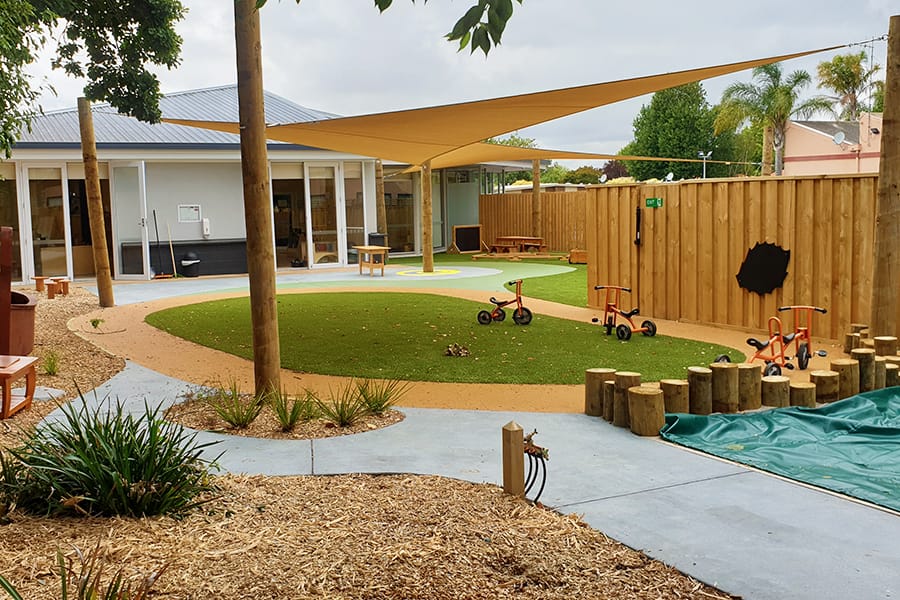 For more ideas check out our free downloadable book.