At Creo, we believe in the power of innovation, sustainability, and fun. That is why we are excited to announce our partnership with the innovative "Sustainable Fun for Everyone!". 
This collaboration is a landmark step in our ongoing commitment to the principles of the circular economy and our mission to create joyful, sustainable playgrounds across New Zealand.

"Sustainable Fun for Everyone!"
Sustainable Fun for Everyone is a unique initiative focused on turning waste rubber into fun and accessible playground surfaces for Kiwi kids. 
By recycling rubber that would otherwise end up in landfills, we're transforming waste into something beautiful and functional.
The process involves:
Collection and Conversion of Waste Rubber: Collected rubber is granulated and turned into usable rubber granules that we pour onto our playgrounds.
Collaboration and Innovation: Together with partners like NumatAGRI, we are finding new purposes for recycled materials.
Creating Accessible Playgrounds: We ensure that the playgrounds are accessible to all children.
Creo's Commitment to the Circular Economy
The rubber surfaces created through this process are also highly durable. At the end of life, that rubber can be reused for new playgrounds, truly embracing a circular economy where resources are continually reused and recycled.
The First Success: CPlay Destination Playground
Creo is incredibly excited about the CPlay destination playground in Timaru, where our team recovered the old rubber surfacing installed 28 years ago, processed it at the Numat recycling plant in Oamaru, and re-applied it on the playground. 
If you haven't read the full story, click here to read it.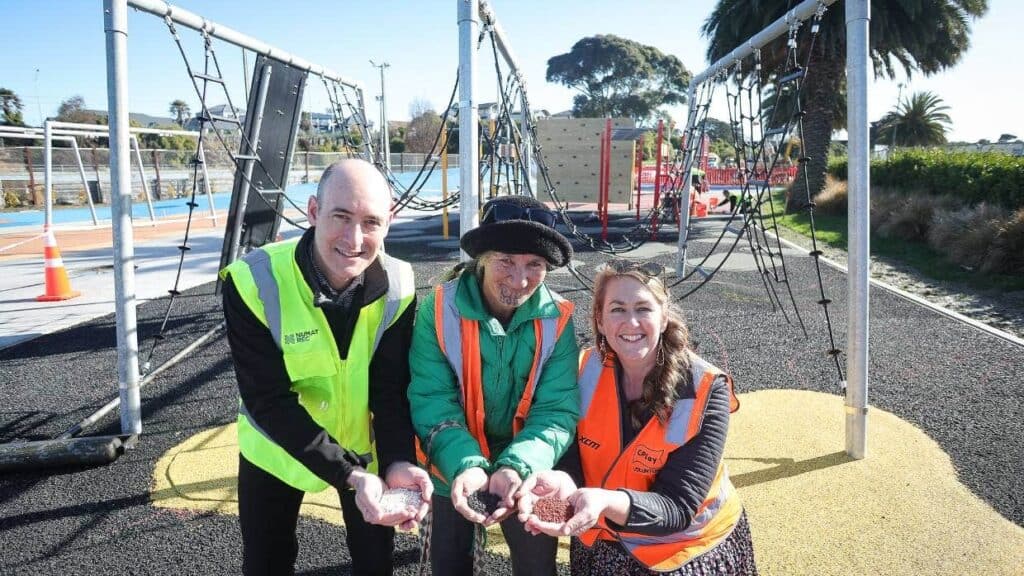 Numat marketing manager Jon Coursey, left, Francine Spencer, centre, and CPlay volunteer Roselyn Fauth at Timaru's under construction CPlay showing the recycled rubber matting for the playground. (Courtesy of Aiman Amerul Muner/ Stuff)
A New Chapter in New Zealand's Circular Economy
This partnership reflects a broader movement toward the circular economy in New Zealand. By recycling and reusing rubber for playgrounds, we're reducing waste and cutting down on the need for imported rubber.
Creo is at the forefront of this transformative initiative. We believe we can make playgrounds more sustainable and enjoyable for all children through collaboration, innovation, and a commitment to the circular economy.