The Power of Play in Holiday Park Playground Design
Holiday parks are cherished destinations for families seeking relaxation, excitement, and bonding. An engaging playground is a vital element that can significantly enhance the appeal of a holiday park. This article offers an extensive guide to creating an extraordinary holiday park playground design that appeals to children and possibly the whole family. From thrilling slides to inclusive play, we've covered every detail. Let's detail the aspects that make a holiday park playground design memorable.
Push the Boundaries: Challenge and Thrill
Provide excitement that's unique to your holiday park. Enable children to face challenges and conquer them, boosting their confidence. Make your space stand out, transforming your park into a go-to destination. Holiday parks are in areas where families are already out of their comfort zone. Adding the thrill and challenge for children can be a fantastic feature for your playground design.
Some of the features that can be included are:
Flying Fox and Towers: Pump up the adrenaline in your holiday park playground by adding one or two flying foxes. A small one for younger children and a bigger one for older ones. This feature engages children to build confidence and motor skills.
Outdoor Climbing Walls: if your holiday park is located in a flat area, outdoor climbing walls can be of great value. Add some natural obstacles for the users to climb, creating a feature that otherwise wouldn't be available in the area.
Make it Inclusive: Fun for All
Designing an inclusive playground for your holiday park isn't just an option; it's a unique opportunity to set your destination apart from the rest. The aim is to be the point of difference that families notice and appreciate. Fun should never be limited by age or ability; it must be available and accessible to all. Below, you can check some ways to make your design more inclusive:
Low Play Equipment: Accessibility matters. When considering holiday park playground design, consider benches and low tables catering to different age groups. Ramps for wheelchair accessibility, ensuring everyone feels welcome.
Safety Surfacing: A must for all abilities. Using the right safety surfacing is essential for the protection of all children. Consider using soft and cushioned materials to minimise the impact of falls and specialised surfacing that caters to children with sensory sensitivities.
Work with the Surrounding Environment: Nature's Playground
Make use of what is around your Holiday Park. Incorporating local history, wildlife, and folklore features can make your space stand out. A lighthouse, a local bird or a river can all be added to the playground design. Some equipment can be useful for nature play:
Nature-themed Timber Trail: Walk Among the Trees A nature-themed timber trail can provide. An educational experience, teaching children about different types of trees and plants. A sense of adventure as children explore a path that mimics the natural surroundings.
Obstacle Course: An obstacle course with a nature theme can encourage children to learn about different animals and insects. Promote physical activity through various challenges.
Log Jams: They are crafted from sustainable wood sources and can have different heights, including young and older children in play.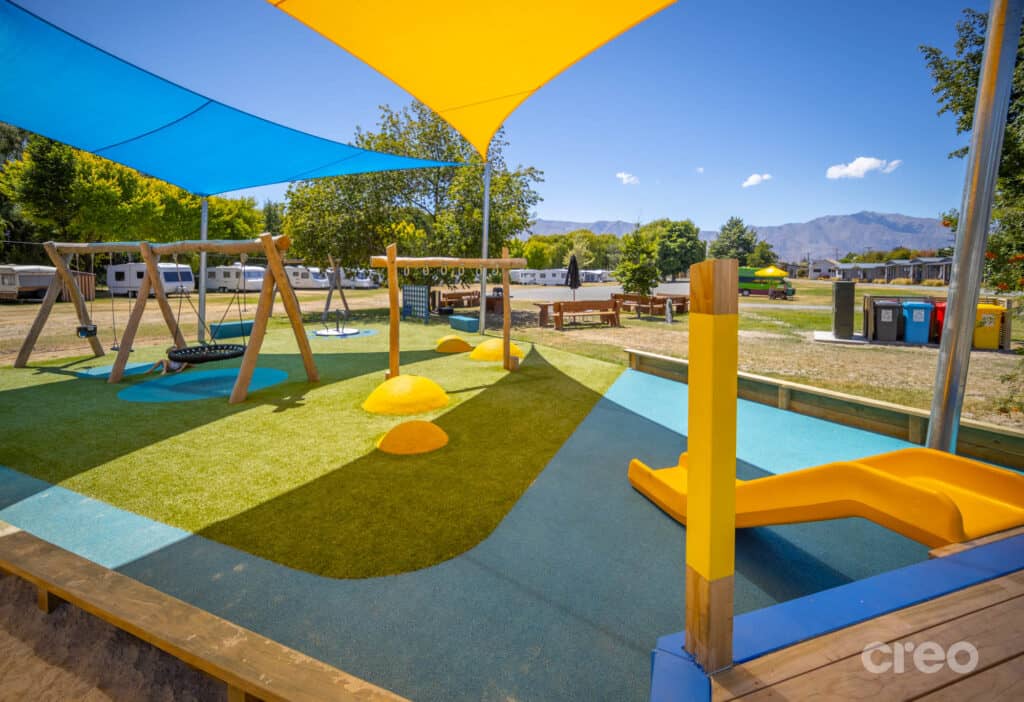 Water and Sand Play: Unleashing Creativity
Create a safe space for children to engage with nature. It is a perfect addition to your playground design and a safe where they can be supervised. Children love water and sand, but sometimes the surroundings are unsafe for the little ones to play. Having this on your holiday park playground can address it!
Pirate-themed Water Play: A water play area can be themed like a pirate adventure. Creating opportunities for imaginative play. Enhancing social skills as children negotiate, plan, and play together.
Safe Sand Play: Including a sand play area is fun and educational. It can help children understand texture, volume, and shapes. Encourage creativity as they build, mould, and shape the sand.
Shaded Areas: Comfort for Everyone
While the children are having fun, shaded areas for the rest of the family to take a break are essential.
Picnic Spots: Mealtime fun shaded picnic spots can facilitate family meals, enhancing bonding. Provide cover from the sun, making the outdoor experience more pleasant.
Reading Corners: Consider setting up shaded reading corners with comfortable seating and a selection of children's books. Opportunities for children and adults to unwind and enjoy quiet time.
Keep it Simple, Yet Effective: Balance Fun and Maintenance
Holiday parks are usually outside urban areas. Make sure to future-proof your design by adding features that don't require regular maintenance or have a long use life.
Classic Playground Elements: In the holiday park playground design, classic elements like monkey bars and swings are present. Remain popular across generations. Provide engaging activities without significant maintenance concerns.
Scooter or Bike Tracks: Creating scooter or bike tracks is another exciting idea that offers endless hours of fun for children of different ages. Encourages physical exercise in an enjoyable way.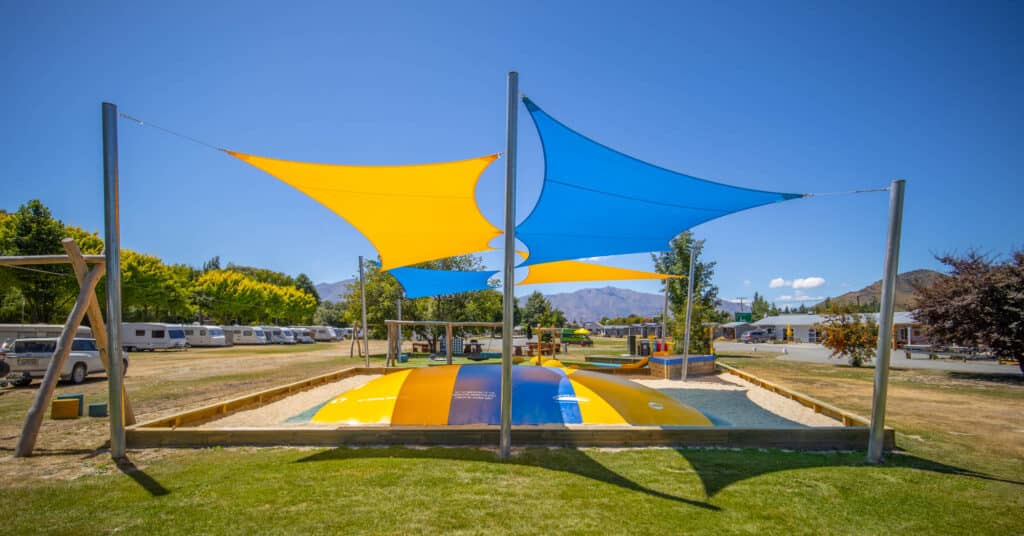 Transforming Your Holiday Park Playground Design Into a Family Haven
Designing a playground for your holiday park involves intricate planning, creativity, and attention to detail. These guidelines ensure that your space is thrilling, inclusive, functional, and in harmony with nature. Whether it's a toddler exploring the sandpit or a grandparent enjoying a book in a shaded reading corner, your holiday park playground design can offer something special for everyone. And ultimately, it can lead to increased revenue, excellent reviews, and your holiday park becoming a much-loved destination for all families.
Ready to embark on this exciting journey and transform your holiday park playground design? Contact us on 0800 000 334 or book a site visit here.