Choosing the right approach to build a playground can be challenging. You might opt for a basic approach with limited design input, working directly with equipment and surface suppliers.
Alternatively, the common choice involves juggling multiple vendors for design, civils, equipment, and surfacing.
Creo changed the approach by offering a full-service playground company experience, integrating all these elements under one roof. In this article, we will explain to you the comprehensive process Creo uses to bring your dream playground to life.
Discovery Conversations: Our initial step involves a discovery call. This 15-minute call helps us understand your specific needs and determine how we can be a great fit for each other.
Site Visit/Survey: A thorough understanding of your site is essential. We conduct detailed site visits and employ technology for accurate scanning. This information is essential for our design team to understand the layout and approach of your playground.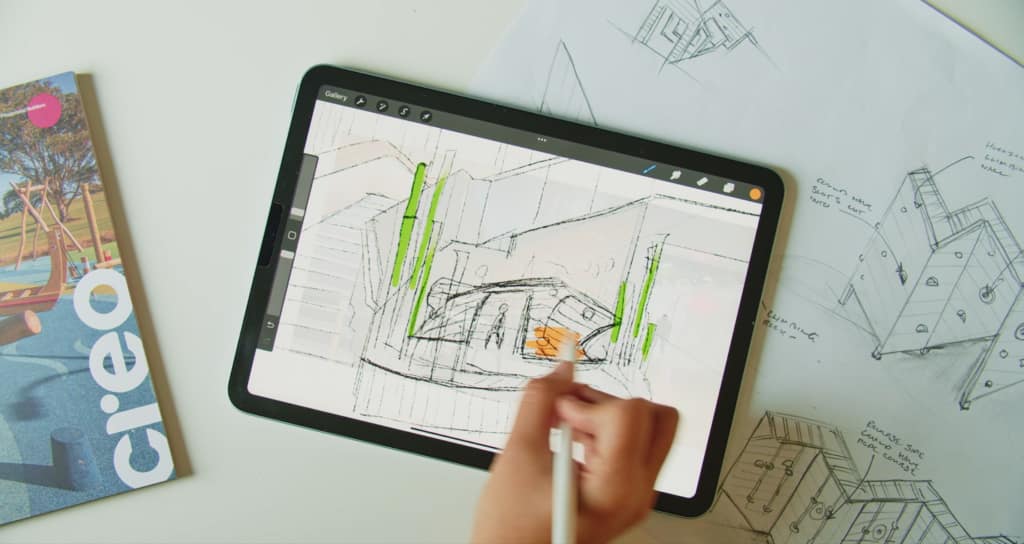 Mood Boards: We use mood boards to capture and visualise the desired purpose and atmosphere of your playground. This collaborative tool helps in aligning our designs with your vision and aspirations.
Concept Drawings and 3D Sketches and renders: Our design process evolves from basic concept drawings to 3D rendered models, getting all the details from our site assessment and early conversations. We also offer a 3D virtual tour of what your playground can look like.
Project value: We give an indication of the complete project value, so the concept aligns with budget. No unpleasant surprises down the track.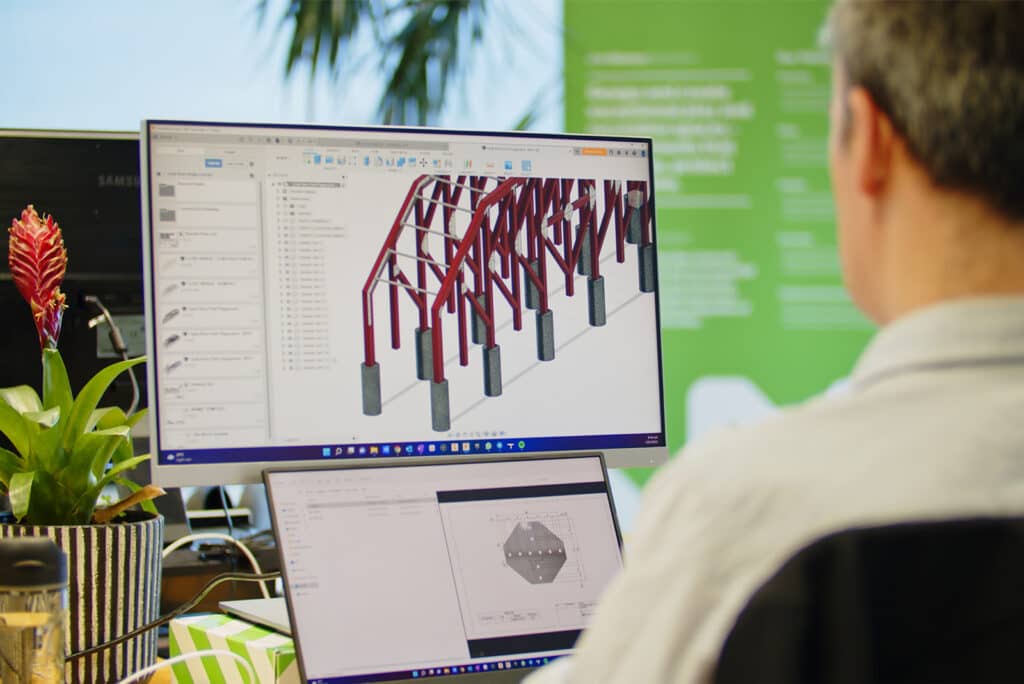 Fundraising Support: At Creo our team will guide you all the way. If you need to apply for funding grants to make your project the best you deserve, we work together to make sure you apply for the right funds that align with your purpose and vision.
Revisions and Developed Design: We take your feedback and incorporate it into our designs. We will work alongside you to make sure the final design is what you desire. It is in this step that your design starts to have a more finished look. Also making any revisions to align with budget at this point.
In-house Design Engineering & Bespoke Equipment Design: Our design and manufacturing team will work with the agreed plans and create unique pieces that fit your story, purpose, and what you'd like to see when your playground is done. Once it is all approved, our team will supply the manufacturing team with all details needed to create equipment and surface designs.
Construction Drawings: After finalising the design, we provide comprehensive construction drawings. Our team will include what will be needed for the plan, such as site excavation, levelling, drainage, fresh water and power requirements, equipment, furniture, shade, set out and installation, and surfacing.
Lead Times: To make sure your project is on time, we have all the needed material in-house, making it possible for our team to manufacture equipment much faster, avoiding months of wait for equipment to arrive from overseas.
Site Preparation: We handle all aspects of site preparation, ensuring the area is ready for safe and efficient construction. We will work with clearing the site, taking on demolition and doing civils.
Building and Installation: Our team oversees the installation process, from playground equipment to safety surfacing, ensuring each phase aligns with the agreed-upon plan and timeline. We have a team of site managers and construction managers that will be on site, making sure your playground is finished within the shortest time possible.
Landscaping: Adding a breathing space in your playground is great for those busy moments. A thoughtful landscape design will consider your budget, needs and who your space is catered for.
Warranties and Compliance: We guarantee that all equipment and surfaces comply with safety standards and come with comprehensive warranties, ensuring long-term reliability and safety.
Professional Photography & Videography: To showcase your new playground, we provide professional photography and videography services. This material can be used for your marketing and promotional efforts.
Ongoing Support with Repairs and Maintenance: Our commitment extends beyond the project completion, offering continued support for repairs and maintenance to ensure the longevity and safety of the playground.
The process of creating a playground with Creo is designed to be thorough, collaborative, and efficient. From the initial concept to ongoing maintenance, we ensure every aspect of your playground project is managed with expertise, making your vision a reality.
For you, this means that you will need to contact only one party, there is clear and concise communication, fixed costs, project can start sooner and be quickly completed. The original design is delivered as it is shown in the concepts.
Are you interested in having the best playground in the community? Call us on 0800 000 334 or send us an email to info@creospace.co.nz