5 minute read.
When it comes to New Zealand's playground design, there are a number of ways to ensure a high performing space that can stimulate the brain and motivate the body.

Here you don't have to add more equipment necessarily. Instead, it's about making more with the raw materials, turning everyday elements into an exceptional experience.
It starts by looking at the non-traditional 'play' components of the playground. These are required items that can be designed with play in mind. Read on to see how you can make the most of every centimetre of the play environment…
1: Seating
Combine fun and function in furniture.
To ensure parents can comfortably supervise their children, every playground needs adequate furniture placement. Why can't this be playable too?
Here clever playground design can arrange for bench seats to be walked along, stepped over, or to lead the player into a new space. The seats can possibly be arranged in such a way that a child is tempted to jump from one to the next.
In doing so, the very seating can potentially be incorporated into the overall imaginative play of the space and bring together the two generations of playground user. Who knows? Perhaps you'll even stimulate some parent play too?
2: Edging
Step beyond the boundaries. 
Edging is generally needed in New Zealand's playgrounds to contain loose materials and provide ongoing ease of maintenance. Traditional edging provides a single function. But why stay traditional?
By moving past traditional edging you can provide something that is in itself playable. Different heights of logs or rocks can be used as balance or vaulting equipment, and for seating too. A wide mowing strip can lead children from one space to another, or even work as a circuit to the playground.
If the edging is a pathway it can be used as a scooter track, with the concrete painted to provide directions that may be realistic, fantastic or some combination of both. Don't limit yourself or your playground design!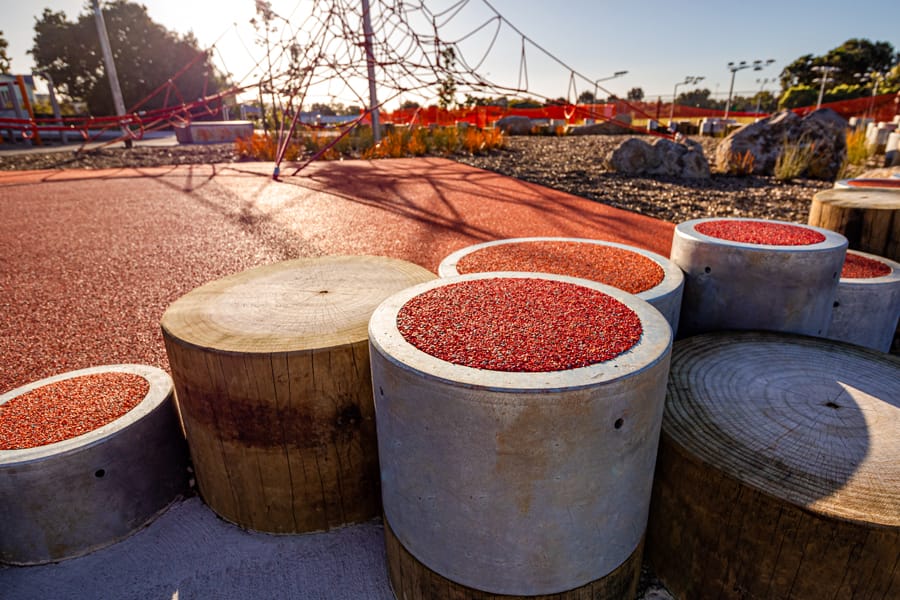 3: Surfacing
Discover the worlds at your feet.
All playgrounds require safety surfacing in some way. With all the possible worlds to create with quality play surfacing why settle for the bland and unimaginative? You can add a huge amount of play value by adding patterns, stories, themes and pathways within an artificial surface, working with the equipment to extend imaginations and play possibilities.
This may lead to tag type games, such as 'the ground is lava', or 'don't step on a specific colour'. Or it can lead into other worlds of nests, clouds and other spaces. By extending an equipment theme (i.e. surrounding a pirate ship with sea and islands) you can offer a far more immersive experience.
Using a range of different materials extends play value also. Artificial turf is great social surfacing for picnicking, seating or crawlers. Loose materials such as sand and bark in the right positions can extend the sensory nature of the playground. There is an excellent guide to playground surface types available in New Zealand at www.numatrec.co.nz.
4: Planting
Use the natural advantage.
Planting or wilderness areas offer many play possibilities and add value to a playspace while offering opportunities to educate and entertain children as to the importance of natural spaces further out into the world.
Of course, such areas need to deliver both safety and security also. If you have some established trees or bushes, these can be thinned to allow for sightlines while still providing a sense of the wild experience. Further planting can help separate areas or act as natural fencing.
Planting isn't just for looks either. Can you increase other sensory experiences? Be it flowers for picking and aesthetic appeal, scented plants for increasing olfactory appeal or even edible plants in the correct spaces, a natural approach can deliver a huge range of advantages.
5: Shaping
Look around the corner.
The very shape of a playspace is often the first thing up for analysis. Typical square and rectangular shapes, curves and circuits are key parts of play and, with a creative approach, you can extend the quality of play experience greatly.
Play spaces that show all the equipment in one easy view diminish the value of adventure you can add in a space. Ideally children will have to explore further to find new experiences. While this is harder in a small playspace it is always achievable in some way, shape or form.
By including planting or seating areas scattered within the area you can help increase the feel of the size of the space without compromising the overall form and functionality.
A good playground designer will exercise their imagination as much (and probably far more), than those who will eventually leap across the spaces they create. They'll do so to ensure their design can deliver both multifaceted experiences and enduring usability. And they'll do it without adding unwieldy equipment or extra numbers to the budget.
If you want to talk to such a designer, why not get in touch? Drop us a line at 0800 000 334.
Looking for more playground design inspiration? Visit our Learning Hub to get our Design+Build Guides or Project Portfolios.