5 minute read.
What makes a good playground design? Is it the way the design promotes safety and functionality? Is it the choice of play equipment? Is it the size and scale, or the layout, or some combination of these things?
It's a hard question – but one you'll need to answer if you want to create a successful playspace. Fortunately, there are some fundamental principles you can use to ensure your design meets the needs of the people who will use it. In this article, we look at 5 key principles of playground design and how they can be used to create a successful public playspace.
1. Provide a range of play options across your playspace
The first important principle of playground design is that of ensuring there is a high degree of playability in all areas of your space. It's no good creating a playground where play only happens in one place, where there are areas that no-one wants to visit, and where children must line-up for a turn.
To ensure maximum playability for your budget, it's critical that you undertake a full cost-benefit analysis of each play element in your design. Doing so will give you a good idea of which elements to include and which to exclude. It will also help you to avoid overspending in some areas of your playground and underspending in others.
At Creo, we like to think about the Cost to Play ratio – or as we like to say, the "Play Value Ratio." Essentially, the Play Value Ratio tells you how much play you are getting for each dollar spent.
To do this type of analysis, you need to consider what goes into giving an item Play Value. This can be tricky, but there are a few questions that can help you work it out. For example, how many children can use the item at one time? What type of play does the item provide? Can the item be used in multiple ways, providing more than one play type? And, how long will that play typically last for?
From a Play Value perspective, an ideal play item is one that delivers distinct types of play within the space (i.e. swinging, climbing, balancing, spinning, sliding, etc.) to many children at once, and is engaging enough to keep them playing for a considerable period.
Some examples of play equipment that achieves high Play Value are topography play areas, structures, basket swings, large carousels, and climbing nets – all of which provide distinctive and engaging forms of play to many children at once.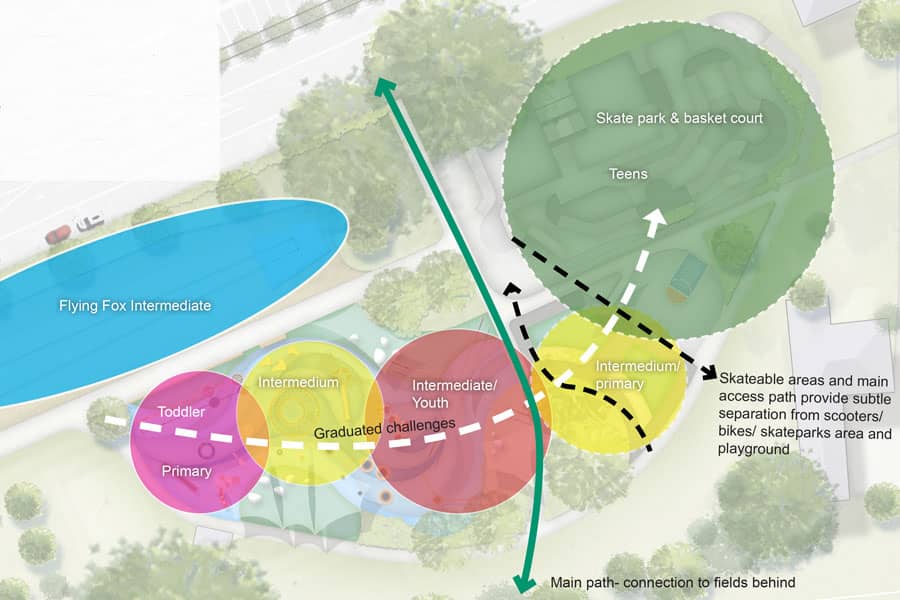 2. Ensure accessibility for all ages and abilities
In New Zealand, there are a significant number of children who live with a permanent disability. In the past, it was difficult for children like these, and their caregivers, to find accessible playgrounds where they could experience the benefits of play – but this has improved in recent years and continues to improve.  At Creo, we believe in creating accessible, inclusive playspaces, where children of all ages and abilities can enjoy and benefit from play.
Some of the ways we seek to offer better play opportunities to children with disabilities are in the selection of appropriate equipment, the provision of sensory elements (such as music, colour, and texture), the selection of appropriate outdoor furniture, the choice of colours and layout, and the selection of appropriate surfacing.
When it comes to equipment, there are many wheelchair-friendly options available these days – such as wheelchair accessible carousels and mini-trampolines – and other types of equipment that allow for easy transfer between the equipment and the wheelchair – like basket swings for example.
Sensory elements are also important – colours, sounds, and textures all play a large role in creating an inclusive space. Highly visible colours, for example, can be used to mark out danger areas, such as around swings, for children with low vision, and musical play equipment can provide an alternative play experience.
When thinking about layout and access, it's important to consider how people with disabilities will access the playground and how they will be kept safe. Here, a logical layout with wide paths and ramps, wheelchair friendly play surfacing, and suitable boundary fencing (or planting) is a must.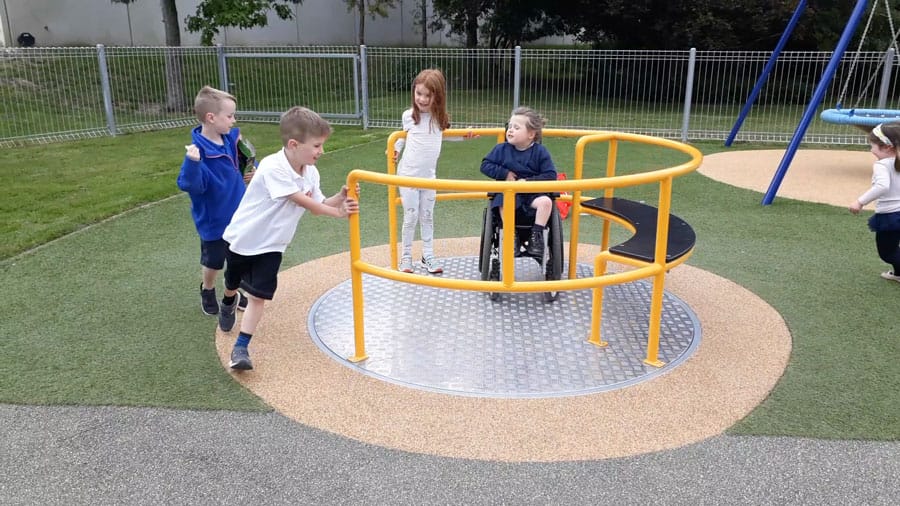 3. Look beyond the playspace
When designing a new playspace, it's easy to be overly focused on the play equipment and neglect the facilities and other surrounding elements that support the playspace. This often leads to a missed opportunity to provide further play options and experiences outside of the 'designated' play zone.
By providing play options in the surrounding elements you can meet the needs of the visitor and provide further interest that will keep them in the space for longer.
Some good questions to ask are: How do visitors get to the playspace? Is it easy to find? How will they know how to get in? Is there shade, shelter, seating and social spaces that are required to create a welcoming comfortable space for them once they are there.
What natural resources are there around the playspace that can be included to play with, are we near water, bush, grassy open space? Can we provide any of these in the design if the space does not currently have them?
4. Create a safe place in which to explore
Of course, all playspaces should be safe. But does that mean they have to be boring? Certainly not! Circuits, entries, soft barriers, and sightlines are all elements that, when used appropriately, create curiosity, interest, and fun for the playground visitor. These are more subtle design elements that people generally don't notice when done well. When they are not done well, they become obvious.
The first important aspect in creating an exploratory space is addressing the question of safety, for children, this can be summed up as, "do I feel safe to explore?" For parents and caregivers, it's more of a question of, "do I feel safe letting my children play here?"
The feeling of safety is often achieved by having clear entry points (more than one) into the space, clear sightlines, and visibility so children can be seen. This is more important for younger users and can ease off as age and equipment ability increase.
For younger children, it's important to supply soft barriers in play spaces that are not fenced. This will stop children accessing areas they shouldn't or will slow their movement if they do venture away from the playspace.
Also, children love to do circuits. So, rather than just discouraging them from areas, why not focus on leading them to where you want them to stay, so they can explore the space in a safe way.
5. Connect with the community
Another important aspect of any good playground design is that it connects to the local community. Councils will often seek feedback on a playspace before or during design to ensure it meets the needs and wishes of that community. Here, it is important to think about needs beyond the direct requests for things like shade, equipment, and seating, and consider higher needs such as the need to reflect the community's history, culture, and connection to the location.
By considering these higher needs, you can ensure that the equipment and materials used in the playspace are compatible with local cultures and the locational characteristics of the playspace.

Looking for a playground designer, why not get in touch? Drop us a line at 0800 000 334.
Looking for more playground design inspiration? Visit our Learning Hub to get our Design+Build Guides or Project Portfolios.