Whether you're designing a new play space or remodelling an existing one, it's important to use the space efficiently and to provide children with lots of ways to play and learn outside of traditional classrooms. Incorporating courts and ground games into your school's play space design has many benefits that not only include physical activity but also can help nurture creative and social development in children.
What are the benefits of courts and ground games?
Children innately love playing sports, games, and challenging their bodies. By having court and ground markings that can inspire and adapt play, there will always be play options to take advantage of and keep kids from getting bored on the playground.
Offering a range of different sports is important for children. Not only because of the active nature of sports and the benefits of physical activity for children's health, but sports also provide many social and cognitive learning opportunities.
Having adequate and purpose-built courts and markings in your school ensures that dedicated covered and/or surfaced sports courts provide more year-round use, from wet and muddy winters to warmer, dryer summer conditions.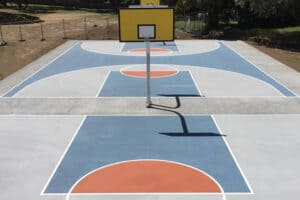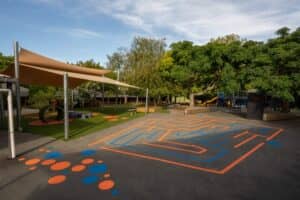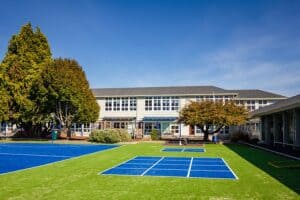 Creo courts and ground marking options
Courts can be painted onto concrete or asphalt surfaces, as well as designed into a rubber surface; creating tennis, netball, basketball and multi-sports courts. Creo can design help create an amazing court that will coordinate best with your overall design plan.
Other surface-marking play options include mazes, obstacle courses, hopscotch, or life-size board games. The options are endless! Educational elements can also be added in such as; locations, school values, numbers + letters, and other storytelling elements.
Considerations when selecting design options.
The biggest consideration to take when planning on incorporating courts and markings in your school is how much space you have available or if there are any obstacles nearby.  These factors will ultimately determine what options would be best for your needs.
Being able to use these spaces for outdoor halls, gathering spaces or for community connections is important to consider to get the most out of these areas.
Some smaller leftover spaces are great for mini-sized games, for example, a small soccer area, a side field or a simple goal to shoot at can be highly valued and not need a full-size field to be well used.
Having the freedom to draw and personalise your space through markings is a great way to tell the story of your school and create a creative environment for students to play and challenge themselves.
If you would like more information about play surface types available in New Zealand, check out the free guide at www.numatrec.co.nz.
For more elements of play check out our free downloadable book.