We are tickled pink to announce that the Lorna Irene Reserve Playground project we designed and built for the Kapiti Coast District Council has been awarded Playground of the Year at the prestigious Recreation Aotearoa Awards.
This accolade is a testament to the hard work, dedication, and passion poured into this project by every member of our team at Creo, in partnership with Kapiti Coast District Council.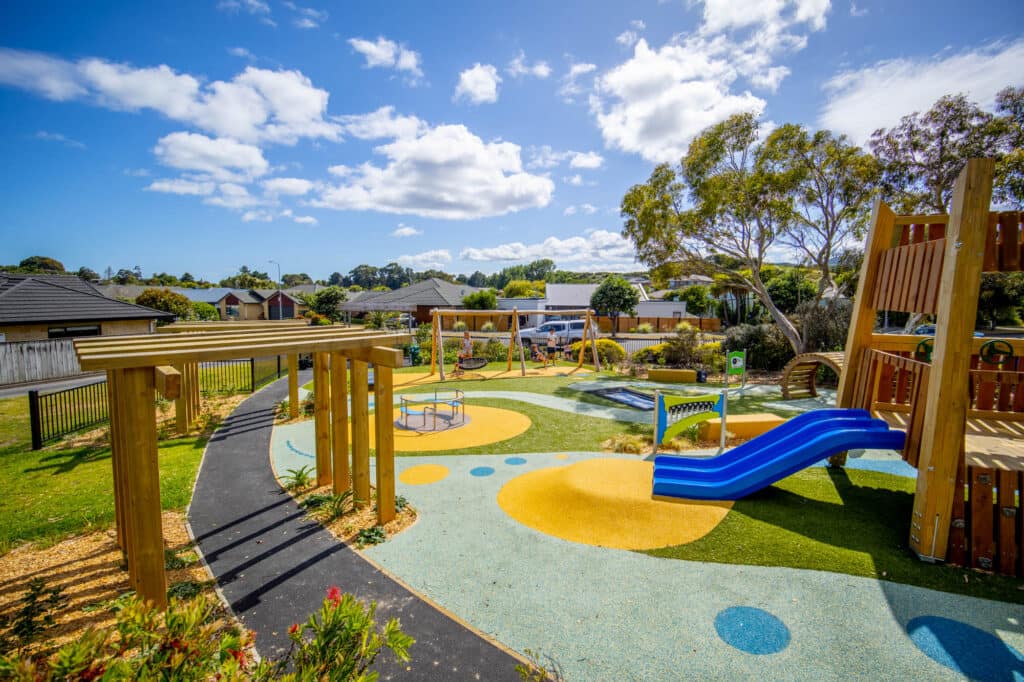 Click here to check out our case study for the award-winning Lorna Irene Reserve Playground.
The Lorna Irene Reserve Playground was a project close to our hearts, driven by the desire to create an inclusive, accessible, and engaging play space. We are immensely proud that Recreation Aotearoa, the leading professional organisation for the recreation industry in New Zealand, has recognised ours, and the council's efforts.
The Lorna Irene Reserve Playground is more than just a playground – it's a testament to the principles of universal design. Working hand in hand with the Kapiti Coast District Council, disability advocates, and the local community, we ensured that every element of the playground was designed with accessibility and inclusivity in mind.
Key features of the playground include wheelchair-accessible equipment, such as a seesaw and tower, allowing children of all abilities to engage in fun and physical play. The playground also offers sensory play opportunities, appealing to children's curiosity and exploration while also catering to children with varying sensory needs.
But the playground is not just about play equipment – it's about creating a safe, welcoming space where all children and their families can come together, share experiences, and build a sense of community.
We would like to extend our deepest gratitude to Recreation Aotearoa for this honour, to Kapiti Coast District Council for their unwavering support and collaboration, and to the tireless disability advocates who guided us in designing a playground for everyone.
This award serves as an inspiration for us at Creo to continue designing and creating spaces that are not just aesthetically pleasing, but also functional, accessible, and inclusive.
As we celebrate this success, we also look forward to the future, eager to continue our work in creating meaningful spaces that contribute to the well-being of all communities.
To see more of our work, please visit our projects page where you can find photos, videos, and more from many of our recent projects.
-Team Creo